Category Archives:
DIY Rabbit Housing
There is a lot of misinformation out there regarding rabbit housing. Unfortunately many rabbits are bought on a whim during holiday seasons such as Easter where they are marketed as cute and cuddly 'starter pets' for children. Uneducated shoppers are led to the housing aisle and shown a variety of cages deemed fit for a rabbit. The problem is that none of these cages are spacious enough to provide the happy living environment a rabbit requires.
Why Are Pet Shop Cages Not Suitable For Rabbits?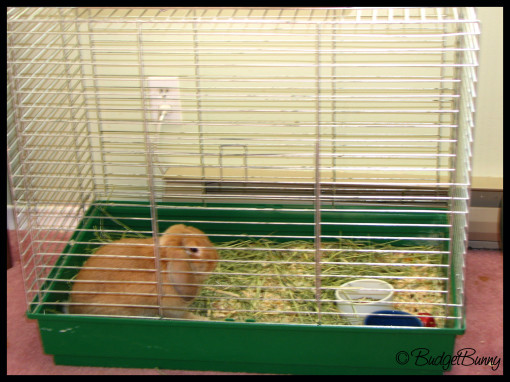 Pet Shop cages may be cute, colourful and compact for your living area but they do not have your rabbit's well-being in mind. Even the largest of rabbit cages sold in pet stores are still too small. In this photo you can see just how cramped living quarters in a large pet shop rabbit cage are. Honey takes up almost 1/4 of this cage and that's before a water bowl, litterbox, hay rack, hidey house and toys have been added! With these additions in the cage it would be nearly impossible for her to hop, turn around, lounge or flop. Imagine spending your life or the majority of every day locked in your bathroom. You may be given the necessities to live but it's not going to be long before you get frustrated and bored. A rabbit is a living, breathing, feeling, complex animal that deserves the same amount of love, attention, space and care that any pet does.
What Are The Minimum Requirements For A Rabbit Cage?


1) Your rabbit must be able to comfortably hop from one end of the cage to the other at least 3 times without hitting anything.
2) Your rabbit should have an area in their cage where they can stand up on their hind legs and periscope around.
3) Additional levels are recommended to maintain proper muscle development.
4) The House Rabbit Society recommends nothing smaller than an ex-pen to house your rabbit in.
5) Even if your cage meets these requirements your rabbit still needs a minimum of 3 hours of daily floor time.
What Type Of Housing Is Suitable For Rabbits?
Ex-pen
Exercise pens or ex-pens can be purchased from your local pet shop and are generally found in the 'dog' aisle. This photo shows Willow in an ex-pen. The size difference between the ex-pen and the pet shop rabbit cage is clearly evident. While ex-pens do provide the space a rabbit requires they are quite costly to purchase, do not have a proper cage top and can be easily moved around by your rabbit if not anchored down. As you can see in the photo, we had to build a base for our ex-pen to prevent our rabbits from moving it across the room, spilling their food, water and litterbox everywhere. The other problem we faced was the open top. I would frequently come home from work and see a flash of bunny feet whiz by me when I walked up the stairs.
DIY Housing
Many rabbit owners are now looking for alternative ways to meet the minimum housing requirements but also do so affordably. Constructing cages out of neat idea storage (NIC) cubes such as those by Rubbermaid have become a popular alternative. Rocky and Honey's cage is constructed out of NIC grids, zip ties and wooden bases that we tiled for easy clean up. Their cage is 4 grids long by 4 grids tall by 2 grids wide providing four levels of fun! Not only was this cage cost effective but it also allowed us to customize the size and shape to suit the room it was going in.
You can see how we built these cages here.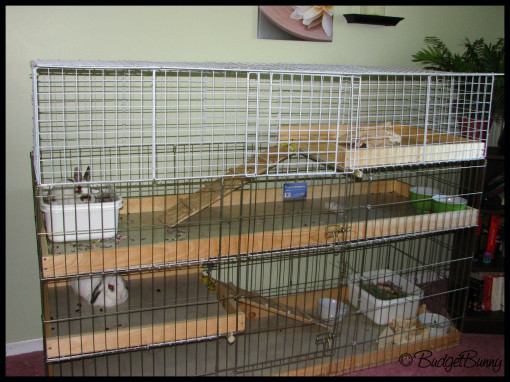 As we already had the expensive ex-pen we decided to modify it and use it for Willow and Ollie's living space. We made better use of the height of the pen by adding additional levels.  To ensure Willow's cage provided enough height and space we added a top row of NIC grids.
Rabbit Room / Rabbit Living Area
Many people choose to dedicate a room or a large section of a room for their rabbit. This way it is able to free range 100% of the time. If you are considering this please ensure that you are diligently bunny proofing the area first. Carpet, cords and baseboards are especially tempting to rabbits whose natural instincts are to dig and chew!
Free Range House Rabbit
And finally many now opt to have their rabbits live in their house just like a dog or cat. Rabbits are easily litter trained and make excellent house pets! This option is not available to all rabbit owners, especially those with other animals in the house. Please make sure that if you are considering having a free range house rabbit to take the other pets you have in to account as well as the rabbit proofing that will be involved.
You can see more on bunny proofing here.
Why Is Large Housing Important?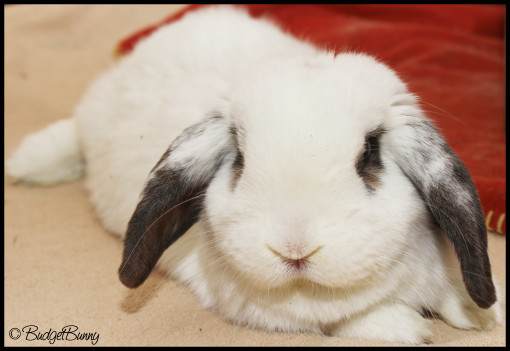 Prevents Behavioural Problems – A rabbit who spends their day in a small living area they can't properly move around in will not only be bored but will have no way to burn off that pent up energy. That lack of exercise will naturally lead to frustration and behavioural problems that will most likely be taken out on you. Can you blame them? Stuck in that small space all day would make me cranky too!
Health – If your rabbit can't properly stretch it's legs or move around then this can lead to serious problems such as poor muscle tone. Boredom can also lead to depression, a weakened immune system and illness.
Better Litterbox Habits – That's right! Rabbits confined to smaller cages are less likely to develop good litterbox habits as compared to those housed in appropriate sized condos. This is because they have enough space to properly live in their home while designating a specific area as their toilet.
Stronger Bond – A happy rabbit is easier to tame!
This post is intended to inspire not to shame. Most of us rabbit owners, myself included, began with pet shop cages because we just weren't aware there were more suitable options out there. If you have followed us on YouTube, Facebook, Instagram and here on the Blog then you know how amazing and loving these animals can be! Once our rabbit's became accustomed to their new, spacious condos it was evident how much happier they were. So take this information and better your rabbit's life!
Just a quick reminder: On average rabbits live around 8-10 years of age but we're hearing more and more of house bunnies living well in to their teens! If you are unable or unwilling to dedicate the proper space or housing required for a rabbit to live the long and happy life it deserves, then perhaps a rabbit is not the pet for you!
Posted in

DIY Rabbit Housing, Your Rabbit's Health

5 Comments