Genevieve is our 6 year old Golden Retriever.  If anyone has kept our hands full since we got married it's her!  Suffering from a major case of ADHD and Separation Anxiety, Genevieve is never content to just lay at the other end of the couch, she needs to be right on top of you while you pet her every second of every day.
Genevieve has this zest for life that I've never seen in any other animal or human being!  She loves people, whining and jumping if she sees someone across the street.  It drives her nuts that there's someone out there in the world that she hasn't met and that hasn't had the joy of petting her.
Puppy Love
We fell in love with Genevieve the second we saw her.  A four month old puppy with the most beautiful face we'd ever seen.  My husband had always wanted a dog and I love all animals so after an hour playing with her, we slapped a collar around her neck and brought her home with us.
She was a little devil as a puppy.  Puppy School helped but overall she was horrible.  Her and I fought for dominance constantly.  She would jump on the couch and yank on my hair.  She would bite my bum.  She chewed anything and everything.  She ate my favourite coffee table, my not so favourite coffee table, carpet, rugs, doormats, pillows, blankets, socks…anything she could get her little paws on.  We went through numerous leashes because she had a horrible habit of chewing them in half.  We stopped buying her the expensive toys because she'd have them ripped apart in seconds.  And she never seemed to tire herself out.  She was six months old when we started bringing her to the dog park.  We would be there for 2 hours or more, come home and she would still be into something the minute we turned our backs.
Growing Up
What really seemed to turn Genevieve around was Murray.  We brought Murray home for two reasons:  1) We wanted a second dog and I wanted to get the puppy stage over and done with while I still had some energy left and 2) We wanted someone who could keep Genevieve busy.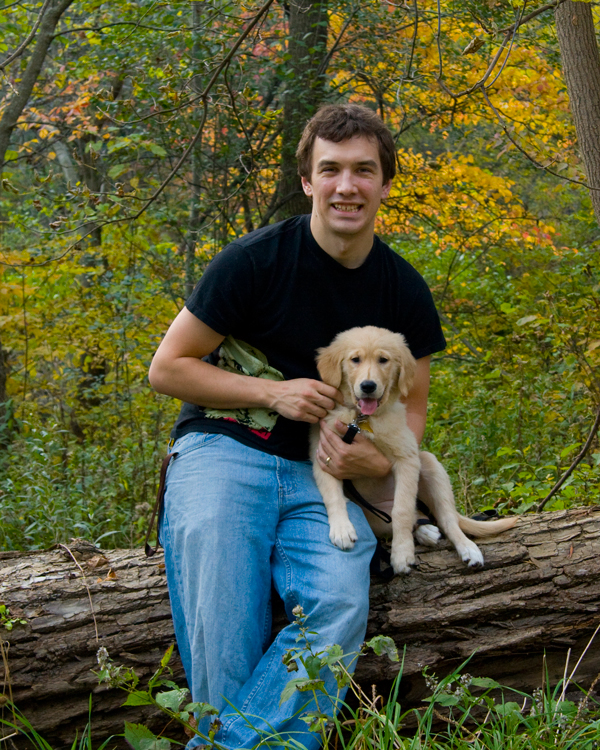 From the minute Murray came home, Genevieve became an entirely new dog.  They played for hours, tiring one another out.  Genevieve stopped wrecking everything because she was too preoccupied with Murray.  She wasn't all over us every second of the day for attention because she had Murray to keep her company.  When she came home from the dog park with extra energy to expel, she turned to Murray.
She was great with Murray.  They'd play tug of war for hours.  It was adorable to watch because Genevieve was about 65lbs when Murray came home and he weighed 8lbs.  She could have easily snatched every toy away from him but instead would pretend that he was really strong and let him get the toy after a good tug of war fight.  If he wanted something she had, she would gladly give it up for him.  She would let him eat first, to make sure he got what he needed.  Genevieve was never jealous of Murray, she was too excited to have a friend to play with!
Entering Adulthood
Genevieve still has the same love of life, and the same love for people, but she listens more now, she tires out after a normal amount of exercise and we don't have fights over who's the boss anymore.  She has grown from a beautiful puppy in to an even more beautiful dog.  She loves to swim, fetch her ball and is content as long as she's not missing out on anything!
There are countless stories I could tell you about her, like when she was a puppy she loved to get in to our hammock and dance around on it.  Or how she hated her crate and used to run upstairs, then become dead weight that I had to drag down a flight of stairs by her legs and she still wouldn't budge.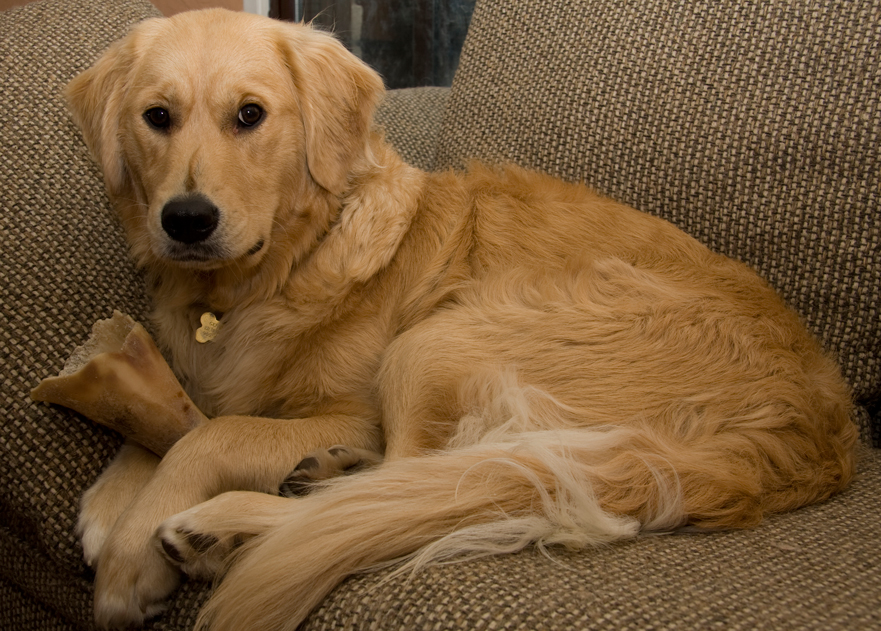 There was the time we were at the cottage and the neighbours left their front door open so she took it upon herself to announce her welcome by running in to their house, jumping on the couch with them while they had their morning coffee, then stealing their dogs toys before bolting out the back door and back to us.
It's been six years but it has been an unforgettable six years with her and even though there are always days when I wonder what I was thinking when we brought her home that late September day, I wouldn't trade any of it.
You can follow Genevieve here:
Blog: Animal Crackers
YouTube: thegoldenduo
Facebook: Thegoldenduo
Instagram: @thegoldenduo
Twitter: @genandmurray
Gmail: genevieveandmurray@gmail.com