After Rocky's passing, Honey became a completely different rabbit. She lost her appetite, wasn't moving much and seemed incredibly lonely and depressed. We set her up in an adjacent pen to Willow and Ollie which perked her up a bit and then attempted to bond all three to form a trio. After weeks of this however, it was clear that Willow did not want any part of it! So we turned to the Toronto Humane Society to find her an appropriate companion and to give a deserving rabbit a second chance at a loving forever home.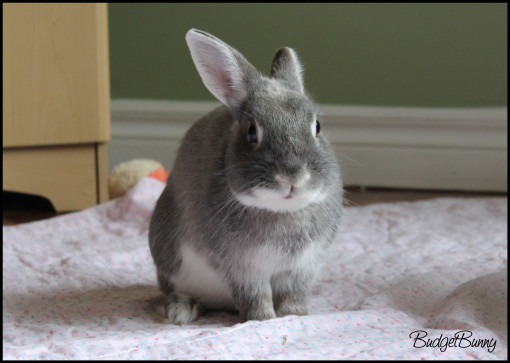 After contacting THS, I completed the application form and sent in additional photos of our setups as well as some information on Honey so they had an idea of her personality. We only waited a week or two before being contacted – they had a rabbit they felt met our requirements! We set up a meet and greet and made the trip out with Honey in the hopes of adding to our fur family!
When they told us Cupcakes' story, we were immediately in love! This sweet 3 year old Silver Marten Dwarf Rex had been surrendered with teeth issues that had developed in to a large abscess under his chin. After having the abscess drained and treated, he was neutered and microchipped. From there he spent a few months in foster care to ensure he had properly healed and his teeth issues hadn't returned before becoming available for adoption. This little bun was a true fighter and needed a home that could provide a lot of love and care!
While conducting the interview, Honey and Cupcakes were set up in adjacent ex-pens so that we could observe their behaviour. Both exhibited positive signs of interaction – Honey even had a bath and flopped against the cage bars. She was ready for a friend! We signed the paperwork and YIPPEE, Cupcakes was ours!
Cupcakes seemed completely at home from the moment he came through the front door. He excitedly hopped around his pen, chinning and observing his new surroundings. Although we provided many places for him to hide while he adjusted to his new home, we always found him sleeping out in the open. When our dogs or cats approached the pen he would hop up to them, excited to say hello.
Next we had to find a new name for this little dude as Cupcakes just didn't seem fitting. It was Grandma Bb that actually suggested Sebastian after I sent her a photo of him. Mr. Bb and I both liked the name and thought it suited him. A fresh name for a fresh start.
We have now had Sebastian with us for 1 1/2 months and can't imagine life without him! He comes when we call him and eagerly greets us every morning by running to the cage door! If you unlock it, he will grip the bottom of the door and pull it open, then run out to meet you! He loves a good snuggle with us and has really helped alleviate Honey's loneliness. Although Honey and Sebastian are not fully bonded yet, they spend a large portion of their sessions snuggling and grooming one another.
Sebastian loves to explore during floor time and although we have yet to see a binky, there have been some pretty excited hops and tail twitches! He also loves to snuggle with us on the couch while watching tv. He is a cheeky boy who adores his food! He gets so excited for pellet time that I have to be careful not to step on him as he does a dance and circles my legs! He loves his farm fresh hay and veggie time as well!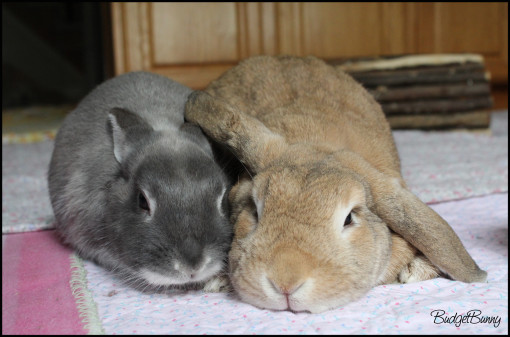 If you are looking to add a rabbit to your family and live around the GTA, I highly recommend the Toronto Humane Society. The staff were extremely friendly and knowledgeable while helping us find the right rabbit. All rabbits are spayed/neutered, microchipped and health checked prior to being adopted out so you know your new companion is healthy! They also offer meet and greets so if you are looking for a bonding partner for a rabbit that is already part of your household, you are more likely to end up with a successful bond – which was something incredibly important to us! It was also incredibly refreshing walking in to a facility that promoted the proper housing and house rabbit welfare I strive to educate others on.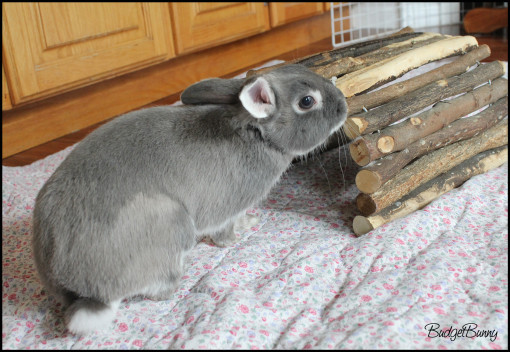 Welcome to your new life Sebastian! We are very excited to have you as our newest member of the Bb Family!
You can see more of Sebastian here.