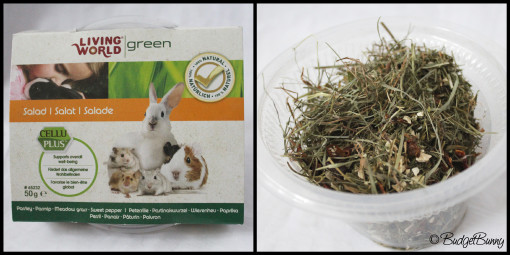 Living World Green is a new line by Hagen that has recently launched in Canada. LWG products claim to bring your small pet closer to nature with their wholesome food, treats, habitats and toys while also being eco-friendly. The Living World Green salads are packaged in a plastic reusable container with a cardboard sleeve around them. The sleeve provides the product information on it and has a natural and fresh look to it.
These salads are 100% natural and have no added sugar, colourants or preservatives. They provide variety to a small pet's diet and are a healthy blend of fruits, vegetables, flowers as well as natural cellulose fibre. When looking at the ingredients list on this product it is comprised of dried parsley, dried parsnip, dried bell peppers, timothy grass, orchard grass, perennial ryegrass and common bistort. All of these are natural and healthy ingredients to give to your small pet. This product contains CelluPlus which is one of the main focuses of the new Living World Green Line. Hagen says it is a unique cellulose formula that aids in digestion and contributes to your pets overall well being.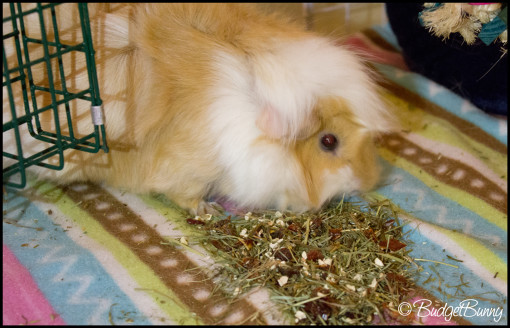 The Living World Green salads come in four different flavours. This review will be focusing on the Parsley, Parsnip, Meadowgrass and Sweet Pepper flavour, which I gave to our four rabbits and two guinea pigs to test out.
Ollie, Willow and the guinea pigs couldn't get enough of this! They eagerly munched away at the handful I had given them and even licked up the crumbs!
Honey and Rocky hopped over to sniff and nibble on it but overall didn't seem too fussed about the flavour. With four different flavours I have no doubt that we will find one they will enjoy!
Overall, I thought that this was an excellent product. I love that the Living World Green salads don't have any hidden or unhealthy ingredients in them. Everything in this salad is natural, healthy and safe for my pets while also providing a great way to spice up their diet.
Try getting more creative with this product by sprinkling it over your small pet's pellets or mixing it in to their hay, stuffing it in toys or making hay bags with it as well.
Pros:
Great for all small pets including rabbits, guinea pigs and hamsters.
100% natural with no added sugar, colour or preservatives.
These salads are offered in four different flavours to appeal to any small pet's pallet.
Can be used to encourage foraging behaviours and prevent boredom.
The mixture of hays and dried food keeps your small pets teeth healthy and trim.
The reusable container provides easy storage and keeps leftovers fresh.
Cons:
Retail pricing is a little high however this product is unlike any others offered on Canadian shelves. It is difficult to find all natural, healthy treats designed for small pets.
Depending on your pet's taste preferences they may not like this particular flavour, however there are three other types to try.
You can 'Like' Hagen Small Pet Care's Facebook page here.
And visit the Living World Green website here.
Thank you so much to Hagen Small Pet Care for sending us this product to review!
Look forward to more reviews of the new Living World Green products by Hagen in upcoming weeks!
Rating 4.5/5