After cleaning out the cages this morning I found I had a lot of its and bits left over from old toys. In the rabbits' toy box I also had quite a few toys with predrilled holes in them or things that could easily be hung on string. I decided to take some of these toys and create new toys from them. This is a great way to reuse those odd pieces that get left behind, generate new interest from toys your rabbit has grown bored with and provide enrichment for your rabbit.
Materials:
Any old toys you have around the house – these could be loofah chews, wooden toys, willow rings or willow balls. I've used parts of old rattles and fling toys as well as some new wood chews that I just hadn't given to the rabbits yet.
Sisal string or twine
Scissors
Hooks to hang the toys from
Cost:
$0-$5 if you need to purchase the string or hooks.
Assembly:
Begin by cutting your string to the desired length. Keep in mind you'll want some extra to form a loop at the top (so that you can hang your toy from a hook if desired) and to create a thick knot at the bottom. Next make a loop at the top of your string and knot it a few times to secure it.
Now add your desired toys.
Finish by tying a secure knot at the base of the toy.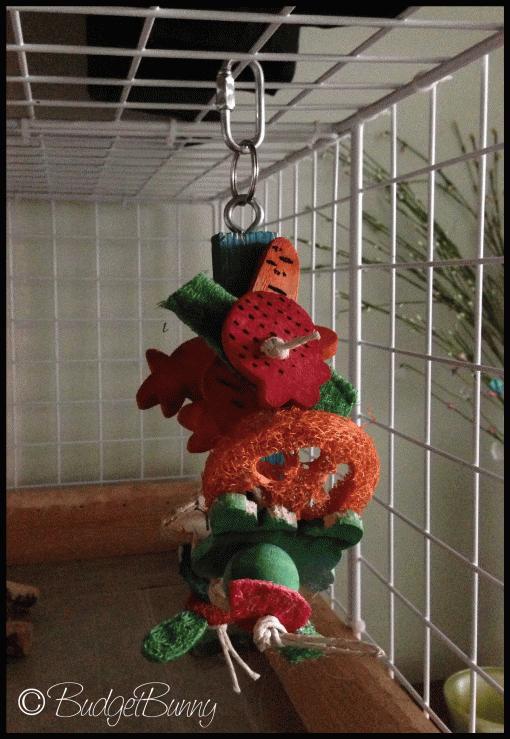 I also had a rectangular wood block that had two predrilled holes in it. Originally it had various pieces hanging from it  that Honey had chewed apart a long time ago. I slid the string through the holes and added the toys on so they would hang off either side of the base.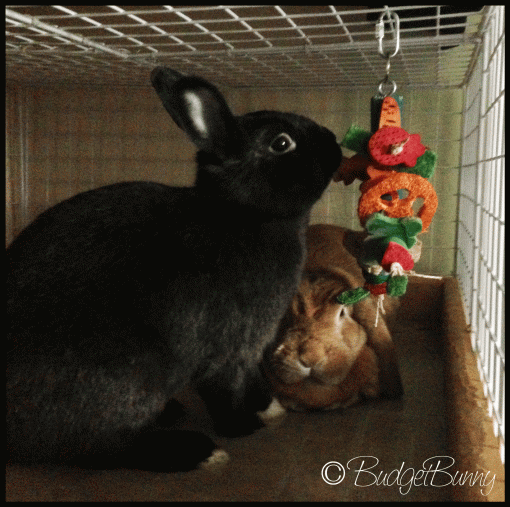 With all of the spare pieces I had from leftover toys I was able to make three new toys that hang from the tops of the rabbit's cages as well as a garland of chews for our hamster. The rabbits were so excited about their 'new' toys they immediately began knocking them around and nibbling on the different bits. Success!