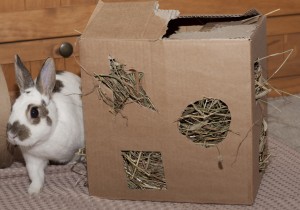 This will take only moments to make, keep your rabbit entertained and is absolutely free!
Materials:
Cardboard box
Hay
Scissors or Utility Knife
Cost:
Free!
Begin by cutting random shapes on all four sides of your cardboard box.  You want to make them at least 3 inches wide so your rabbit will be able to access the hay but not too wide that the hay is always falling out of the holes.  Keeping the shapes smaller also provides more of a challenge for your rabbit.  When you are finished cutting out your shapes (I cut circles, squares and the occasional star) stuff your box full of hay, close the upper flaps and leave out for your rabbit to find!  This is great for floor time as it's fairly mess free but provides an enriching toy for your rabbit to play with!